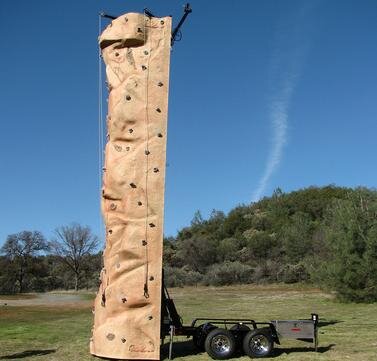 Rock Wall mobile
Setup Area: 30x30x30
Attendants: 1




What to expect from SC Party Rentals Rock climbing wall:
Features:
24-Foot Rock Climbing Wall with real textured finished and multiple different challenge levels of climbs.
An auto belay system for the slow and safe descent of the climbers.
A very realistic surface with hand holds and foot holds strategically placed to challenge most climbers.
3-Station wall supports 3 climbers at a time.
Supports rider weights between

35 pound up to 250

pounds to allow a broad variety of participants
State of the art harnessing system for climber comfort and safety
Comes with a trained operator
When you rent a rock climbing wall for your event you have added great addition to any company picnic, corporate event, church gathering, school fair, family reunion and so much more! A rock climbing wall rental for your location always is an eye-catching attraction that is sure to get interest and up the Wow factor of your event. A rock climbing wall activity is both for kids and adults so be sure to advertise its' inclusion at your event when promoting your festival, fundraiser or fair.
Rock Climbing Wall Rental for Team Building
If you are looking for a team-building activity for your company or youth group then this is the answer! Divide your group into 3 teams and have a relay with each team member having to reach the top and ring the bell. Once down the next player clips in and races to the top...first team for all members to ring the bell at the top is the WINNER! The camaraderie that is often built is a huge plus to this activity. Conquer the wall and conquer personal fears and doubt. Build trust in each other and confidence in yourself!